Helen Elliott
Penbanc Carmarthen Rd, Adpar, Newcastle Emlyn, SA389EE, Ceredigion
Details
Contemporary Colourist. Paintings and handmade prints to fall in love with.
Helen Elliott is a contemporary colourist living and working in West Wales and East Yorkshire. She works in two distinct styles. Her impressionistic style is concerned with capturing light and inspired by the natural world. Whilst her naive paintings present what appears to be an uncomplicated, colourful description of daily life. Unstructured and distinguished by her intuitive use of colour, the paintings are described as 'accessible', 'joyful'. Influences include Catalonian Fauvists and Scottish Colourists of the 1930s. She exhibits widely, most notably a solo show at the Museum of Niaf Art in Paris, in 2014, and a solo show at The Museum of Modern Art in Machlynlleth, in 2018. She has commissioned work in the Welsh Assembly Government and in private collections worldwide. Helen's work is published in Artists & Illustrators Magazine and Leisure Painter Magazine. She is author of "Creative Me – the joy of paint", an accredited Golden Paints Artist Educator. Regular workshops and classes are offered online and in person. Full details www.helenelliott.net
Type:

By Appointment & Trail Weeks

Keywords:
Facilities
Facilities:
Parking
Toilets
Dogs Welcome
regular workshops held at the studio and online
Testimonials
Hi Helen  So our house is full of your work, from the mini Tenby prints in the bathroom, to the beautiful commission of our house which has pride of place in the hallway, to our latest purchase to complete our recently redecorated bedroom.  We love the colours, the joyful holiday memories of Tenby, the peaceful calm of the teifi moon in our bedroom, and the details in our commission makes it something we'll love forever.
'Joyful holiday memories'
/ Alison Lowe
Hi Helen, I have two original paintings as well as a canvas and a print. I chose the original of the person & dog as it reminds me of my pooch, and the wonderful beach walks we have. The picture is in my living room where I can see it and smile every day.
'Smile every day'
/ Heidi Louise
Hi Helen We now have 2 of your lovely paintings. We fell in with your style years ago on a holiday to the area, even came for a visit to your studio but sadly found you were on a holiday. I feel your art and use of colour and, of course, including dogs in pretty much every piece makes it good for the soul. You want to be there, and I am sure many visitors want to bring a memory home, so a perfect keepsake of beautiful Wales.
'We fell in love'
/ Emma & Matt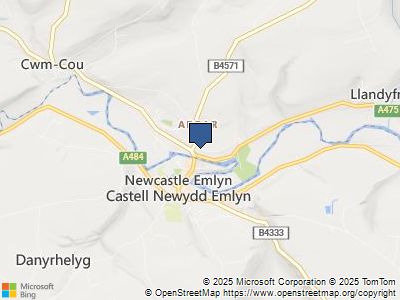 Penbanc Carmarthen Rd, Adpar, Newcastle Emlyn, SA389EE, Ceredigion